The 12 best cities in the world to celebrate New Year's Eve
Ringing in the new year is a tradition celebrated all around the world. Whether you're looking for a winter wonderland, Caribbean party, fireworks or even the Northern Lights, these are the 12 best cities in the world to celebrate New Year's Eve!
The 12 best cities in the world to ring in the New Year
I asked 10 other travel bloggers to help me come up with this list of best cities for New Year's celebrations, and tell me why they love each city, spanning [almost] every continent and style. In addition to the reasons you should check out these cities, this guide includes some options of where to stay and tours to go with, all of which come highly recommended.
Have you been to any of these cities for New Year's? Is there somewhere else you would recommend?
Hogmanay in Edinburgh, Scotland
I spent last year celebrating the holidays in Edinburgh, where New Year's Eve goes by another name, Hogmanay.
"Hogmanay" literally translates to the last day of the year, but it's a multi-day celebration in Scotland's capital of Edinburgh. It starts with a Viking-led torchlight procession through the city, where thousands walk with their torches to Holyrood Park. This year's event will showcase the culmination of the Year of Young People, answering what makes them proud to live in Scotland.
On New Year's Eve itself, there are celebrations across the city. Outside of the official Hogmanay event, you can head to the Christmas market or go ice-skating. Get the evening started with some revelry at a ceilidh. The place to be at night though is the street party, featuring multiple live bands on several stages and fireworks over Edinburgh Castle.
And after two nights of partying, on New Year's Day, you can participate in the Loony Dook. Get up early, get in fancy dress and head to Queensferry. It starts with a parade through the town and ends with a freezing dive into the Firth of Forth. Somehow doing Scotland's version of an arctic plunge was the best way for me to start 2017 (and even land on the front page of the paper!).p
Where to stay in Edinburgh
Because Hogmanay is one of the most popular New Year's celebrations in the world, Edinburgh accommodation fills up fast. Click here to check availability and prices in Edinburgh, or check out what's available on Airbnb. Here are a few options with a great location and reviews.
| | |
| --- | --- |
| The Principal Edinburgh Charlotte Square | Angels Share Hotel |
Recommended Edinburgh tours
5 Day Edinburgh Hogmanay with Haggis Adventures

 

3-Day Isle of Skye and Scottish Highlands
New Year's Eve in Chicago, USA
Ketki from Dotted Globe's favorite is my hometown, Chicago (and even my favorite zoo!).
Chicago is one of my favorite places to ring in the New Year, with many events happening across the city. I love watching the fireworks at Navy Pier and joining the revelers as they walk on Lakeshore Drive in freezing cold. Families can enjoy the many rides and other attractions at the pier while waiting for the midnight fireworks. The fireworks show is synchronized to popular music and watching the display over Lake Michigan is breathtaking.
Chicago also hosts many luxurious parties at premier city hotels. The Chicago Scene New Year's Eve Party at Drake Hotel has been voted among top parties in the country and attracts many celebrities. The city has many lively parties at various bars & lounges, exclusive dinner events at Michelin-starred restaurants and live music to ring in the New Year.
Chicago also has many daytime New Year's Eve events for children and families including Noon Year's Eve at Chicago Children's Museum, Zoo Year's Eve at Brookfield Zoo and Zoo Lights at Lincoln Park Zoo.
For more things to do in the city, check out the How Dare She Chicago city guide here.
Where to stay in Chicago
I love the Kimpton chain, so for our recent trip to Chicago, we stayed at their Monaco Hotel which is in the Loop and very close to the river. This location was ideal for walking to everything in the area we wanted to see. Each evening they offer a wine hour and free coffee is available every morning in the lobby. The staff here were great!
Next door to the Kimpton Monaco Hotel is the Virgin Hotel, which has all the same benefits of a great location plus a cool vibe.
About a block away from these two hotels is the LondonHouse Chicago, a Hilton property. This location overlooks the river and is well known for its rooftop bar offering a terrific view of the city.
| | | |
| --- | --- | --- |
| Monaco Hotel | Virgin Hotel | LondonHouse Chicago |
Budget accommodation in Chicago
If you're looking for something more budget, you can go with HI Chicago Hostel in the Loop, Wrigley Hostel in Wrigleyville or Fieldhouse Jones near River North.
| | | |
| --- | --- | --- |
| HI Chicago Hostel | Wrigley Hostel | Fieldhouse Jones |
Recommended Chicago tours
| | | |
| --- | --- | --- |
| Chicago Favorites Food and Walking Tour | Chicago Helicopter Tour (currently discounted) | Private Navy Pier Fireworks Sail in Chicago |
A relaxing New Year in Zanzibar, Tanzania
Anne and Clemens from Travellers Archive vote for warm beaches for the winter in Tanzania.
Imagine crystal clear blue water, white sand beaches and the nicest temperatures for a month like December: welcome to Zanzibar, Tanzania's true paradise and an island that offers the best location for a proper New Year's Eve. The most popular spots for an unforgettable party at New Years are Kendwa and Nungwi.
Here, people gather on the beach and dance through the night – barefoot and surrounded by the sound of the ocean. Make sure to book your accommodation way ahead, as Zanzibar is a popular New Year's spot and people tend to book their places to stay relatively early.
Feeling like a little less party? Don't worry, the coral-ridge Chumbe Island, which is situated a little off the coast of Zanzibar offers the perfect mix of luxurious living and a truly ecological experience. For couples that want to celebrate New Year's Eve on Zanzibar, Chumbe Island is not a bad choice either. The island paradise gives you the opportunity to enjoy the serenity of the beach and tranquil atmosphere that is needed to ponder on the acts done in the past.
Where to stay in Zanzibar
| | | |
| --- | --- | --- |
| Splurge: My Blue Hotel Nungwi | Luxury: Sea Cliff Resort & Spa | Budget: Ndame Beach Lodge |
Recommended Zanzibar tours
Half-Day Mnemba Atoll Marine Reserve Snorkeling

Stone Town

Foodie Walk

1-Day Ruaha

National Park
New Year's Eve at elevation in La Paz, Bolivia
Iris from Mind of a Hitchhiker recommends New Year's in La Paz.
If you find yourself in the region at that time, La Paz is a worthy consideration to celebrate the start of a new year from. I happened to find myself in one of Bolivia's two capital cities in the last week of December. At an altitude of 3640 meters, it's the highest capital city in the world. That makes for a spectacular cityscape to watch the fireworks from while trying to get the altitude sickness under control with a cup of coca tea.
I stayed near the Kili Kili viewpoint (mirador), where my hosts recommended celebrating when the clock hit midnight. They invited me to dinner after midnight, which was lovely and also a little weird. I didn't manage to find champagne, so I settled for a cheap bottle of red wine to accompany me.
Fun fact: loud bangs frighten me, so I just barely dare to go outside for the pretty lights. At the mirador were a lot of people with children, ready to fire up their gunpowder toys. Suddenly, it was midnight. The valley lit up with sparkles and bangs. It was a gorgeous sight, being at the same level as the shimmers against a backdrop of city lights and mountains. Then a kid blew something up right next to me. I panicked, went back, and enjoyed dinner with the family.
Where to stay in La Paz
| | | |
| --- | --- | --- |
| La Casona Hotel Boutique | Budget: Loki Hostel | Casa Fusion Hotel Boutique |
Recommended La Paz tours
| | | |
| --- | --- | --- |
| Standard Tour: 3-Day, 2-Night Salar de Uyuni by Air from La Paz | Death Road: Mountain Bike Tour on the World's Most Dangerous Road | Private Tour: La Paz City Sightseeing and Moon Valley |
A cold New Year's Eve in Moscow, Russia
Liza at Tripsget recommends Moscow, if you can stand the cold!
Moscow is a wonderful place to celebrate a New Year because it's one of the best-decorated cities in Europe. While getting to the Red Square for the New Year celebration might be challenging (as it's often closed for official events), it's possible to book a table in a restaurant with a wonderful view over the fireworks or just walk around the streets and celebrate with the others. Moscow has plenty of things to do in winter.
The temperatures are usually low – around 5-20 Celsius below zero – that means that you can see a lot of snow, visit one of many ice-skating rinks and a giant ice slide in the city center. Also, almost no businesses close for the New Year celebration, so you can have a nice coffee or brunch on the 1st of January!
Where to stay in Moscow
| | | |
| --- | --- | --- |
| Hotel Metropol Moscow | Luxury: Petroff Palace Hotel | Netizen Moscow Rimskaya |
Recommended Moscow tours
| | | |
| --- | --- | --- |
| Izmailovo Flea Market and Kremlin in Izmaylovo | Moscow Luxury River Cruise & Red Square Tour | Vodka Museum & Izmaylovo Kremlin Tour |
Northern Lights New Year in Reykjavik, Iceland
Natasha & Cameron at The World Pursuit think New Year's is the best time to visit Iceland.
The capital city of Iceland is one of the best places in the world to celebrate New Year's Eve. Especially if you are in the mood for that white and cheerful Christmas feeling!
During the month of December and January, the whole city of Reykjavik will be lit with Christmas lights and many Santa clauses will be mingling around the streets. The snow will be falling and people will be drinking having a fabulous time.
On New Year's Eve, in particular, the whole city goes wild. Fireworks start taking over the sky from 8:00 pm onwards, but really go crazy when the clock hits 12:00. There will also be bonfires scattered throughout the city and it's highly encouraged for tourists to join in on the fun. The best place to watch the firework show is Öskjuhlíð hill. I would definitely remember to pack all your winter gear as it will be cold this time of year.
You'll also stand a chance at seeing the northern lights during this time of year as it stays dark almost all day!
Where to stay in Reykjavik
| | | |
| --- | --- | --- |
| Fosshotel Baron | CenterHotel Plaza | Reykjavik HI Hostel |
Recommended Reykjavik tours
| | | |
| --- | --- | --- |
| Northern Lights Small-Group Tour from Reykjavik | South Coast Full-Day Tour from Reykjavik by Minibus | Snowmobiling on Langjökull Glacier and Secret Lagoon |
Iconic New Year's Eve in New York, USA
Yulia from the Foodie Miles recommends the iconic New Year's destination, New York City.
New York City is a classic New Year destination. Giant Christmas tree at Rockefeller Plaza, holiday window displays at Macy's, Saks Fifth Avenue, and Bloomingdale's, ice skating in Central Park create just the right mood for celebrations.
But the main reason why so many people travel to NYC at this time of the year is to check off a bucket list item – watch the New Year ball drop live on Times Square. As someone who has done it once, I can confirm it's an unforgettable memory. But it is also a "one and done" kind of experience. The wait is long, the weather is cold, the crowds are enormous, but that moment when you count down with a million people from all over the world and scream "Happy New Year!" is truly awesome.
If you want to see the ball drop, come to Times Square early, and by early I mean no later than 2 pm. I arrived by 6 pm, thinking that 6 hours in advance is enough and I could hardly see the ball. Prepare for standing in a crowd of people for hours without being able to leave. Once you leave, you won't be able to return to the same spot.
Wear layers of clothes and be prepared for cold weather. Take snacks and water (no alcohol is allowed) to sustain you for 6-8 hours of waiting.
If all of the above doesn't sound very appealing, you can always book a table at one of the restaurants or bars at Times Square. Make sure you make a reservation well in advance. It's a costly option, but you will be able to see the ball drop in the comfort and warmth of a nice restaurant.
For more things to do in the city, check out the How Dare She New York city guide here.
If you'll be in New York for the holidays, check out these deals to celebrate Christmas and New Year's Eve in NYC.
Where to stay in New York
| | |
| --- | --- |
| Hilton New York Fashion District | Budget: Pod 39 Hotel |
Recommended New York tours
| | |
| --- | --- |
| Christmas and New Year's Eve in NYC, all options on Viator | Splurge: New Year's Eve Times Square Ball Drop Party |
Party for New Year's Eve in Ko Pha Ngan, Thailand
For my first New Year's Eve abroad, I wanted to go to the biggest party of the year, a Full Moon party on steroids in Ko Pha Ngan, Thailand.
All night Full Moon Parties are perhaps what Ko Pha Ngan (and nearby Ko Samui) is known for, but whether the moon is full or not, the island will have a "full moon" New Year's Eve celebration. You can expect a full, bouncing beach with hardly any room to get around. Buckets of booze will be flowing and partygoers will be covered in every combination of neon, body paint and glitter.
This is a full-on party and not for anyone looking for a quiet celebration. Debauchery is the cornerstone of Full Moon parties in Thailand (have you seen The Beach?) – drinks and drugs will be everywhere.
If this party is your style, make sure you've prepared yourself – bring a bum bag and as little else as possible. Cameras are best left at home, bring only the money you'll need and if you have to bring your phone, find a way to attach it.
Want an idea of how intense it is? Check out this video from New Year's Eve 2015:
Where to stay in Ko Pha Ngan
Booking for full moon parties in Thailand usually requires a minimum stay, and over New Year's Eve, this can be up to a week. I recommend staying a bit further away from the party and going into Haad Rin, where you'll get to stay away from the crowds and get to relax.
| | | |
| --- | --- | --- |
| Phangan Utopia Resort | Nice Sea Resort | Sea Scene Resort |
Recommended Ko Pha Ngan tours
| | | |
| --- | --- | --- |
| Snorkel Tour to Koh Nangyuan | No1 Off-road trip in Koh Phangan | Ko Pha Ngan Ferry Transfers |
Have a summery New Year in Cape Town, South Africa
Alya and Campbell from Stingy Nomads recommend spending New Year's in South Africa.
Cape Town is an amazing place to celebrate the start of a new year. There is a New Year's Eve party everywhere, for every kind of person. We prefer to skip the craziness of Long Street or the V&A Waterfront and rather watch the firework spectacle from a chilled out picnic on Signal Hill.
Lion's Head is a perfect spot to spend the last sunset of the year, it is about an hour's hike to the top. Be rewarded with fantastic views of Table Mountain, the ocean and the city bowl. It is a 10-minute drive to Signal Hill; take a blanket, picnic basket and a bottle of Pongracz (a local-made version of Moet and Chandon).
Enjoy the awesome fireworks display from the best vantage point and enjoy the 'New Year's Countdown' with plenty of friendly locals! Taking an Uber will save you a lot of frustration in traffic. Don't miss a truly unique traditional event, the colorful Cape Minstrels march on 'Second New Year'. Enjoy New Year's in Cape Town like a local!
Where to stay in Cape Town
Like any big city, Cape Town has many different accommodation options for any budget and preferences. The best neighborhoods to stay in the city are:
| | | |
| --- | --- | --- |
| Once in Cape Town | The Place on the Bay | La Grenadine |
Cape Town day tours
If you are thinking about going on a tour while in Cape Town, I highly recommend Kiff Kombi Tours. Their tours offer an in-depth perspective of a city with a storied past, plus they have craft beer and take you to their own secret spots. Check out their Cape Town Urban Safari or Craft Beer Safari.
Celebrate Junkanoo in the Bahamas
It looks like Nick and Val from Wandering Wheatleys had potentially the most fun at this New Year's carnival, Junkanoo, in the Bahamas. (and thanks especially for the image used as featured image in this post!)
There are many parties all over the world that help you ring in the New Year and party late into the night. But in Nassau, the capital city of the Bahamas, the party doesn't even start until 2:00 am.
This is Junkanoo, the massive street carnival where groups participate in an all-out competition to be crowned the best on the island. Each has chosen an elaborate theme and spent months creating larger-than-life costumes out of little more than Styrofoam, cardboard and crepe paper. They've been perfecting dance routines and practicing the latest pop hits on cowbells and goatskin drums in preparation.
Both sides of the main streets of downtown Nassau are lined with revilers and die-hard fans so thick you can barely move for blocks. Locals angle to get a front-row view of the spectacle and cheer on their preferred group – packing the temporary bleachers, filling balconies, and even climbing the trees and street lights.
Don't expect to head home early. By the time the groups have danced their way twice through the main streets of Nassau, it will be after 10:00 in the morning!
Where to stay in Nassau
| | | |
| --- | --- | --- |
| Bay View Suites Paradise Island | SLS at Baha Mar | The Reef at Atlantis |
Recommended Nassau tours
Nassau Snorkel

Bahamas Adventure

Nassau Food Tasting

and Cultural Walking Tour

Rose Island Day Trip

by boat from Nassau
Ring in the New Year first in Auckland, New Zealand
Jonathan from Everybody Hates a Tourist recommends celebrating the New Year in Auckland.
Each year, Auckland, New Zealand is one of the first places in the world to ring in the New Year. The largest city in the country also has the largest celebration, with thousands of people flocking to the streets of the city center. Since it's the first major city in the world to celebrate, Auckland's New Year's Eve fireworks are always the part of video montages everywhere else.
At midnight, a fireworks show is launched from the top of the iconic Skytower. You can see the fireworks from all over the city, but the bars & restaurants downtown are the place to be. Best of all, while much of the rest of the world is celebrating New Year's Eve with cold and darkness, Auckland is in the Southern Hemisphere, so the skies only turn dark just before the countdown begins.
New Year's Eve might only be one night, but if you head to Auckland to celebrate it, you'll be in the perfect location to enjoy some great summer weather while exploring the rest of New Zealand.
Where to stay in Auckland
| | | |
| --- | --- | --- |
| Skycity Grand Hotel | CityLife Hotel Auckland | City Lodge – Backpackers |
Recommended Auckland tours
| | | |
| --- | --- | --- |
| Waitomo Caves and 'The Lord of the Rings' Hobbiton Movie Set Day Trip | Auckland Highlights combined with Wilderness Experience Eco-Tour | Waiheke Island Exploration and Zipline Day Trip from Auckland |
Let loose with locals in Berlin, Germany
The best place for the new year is Berlin for James at Worldwide Shopping Guide Travel Blog.
New Year's Eve is pretty special in Germany, especially as it's the one night of the year that you're guaranteed to see the Germans let their hair down and go wild. Everywhere you go in Berlin, you'll be guaranteed fireworks. These won't necessarily all be put on by professionals: Germans like to set off their own fireworks as well – which after a few beers can get pretty messy.
If you want to avoid the amateur fireworks, the main event takes place at Brandenburg Gate in the heart of Central Berlin. This is one of the biggest street parties not just in Germany, but in the whole of Europe, and it is usually packed with revelers from Brandenburg Gate until Victory Column. Here you'll find stalls selling delicious festive German street food, DJs playing the best of Germany techno, and thousands upon thousands of other people ringing in the New Year in style.
Entry into the Brandenburg Gate party is free, which is surprising considering that most other European cities charge for their New Year's Eve parties. Just one of many great reasons to pick Berlin for your New Year's Eve party this year.
Where to stay in Berlin
| | | |
| --- | --- | --- |
| Melia Berlin | Hotel Gat Point Charlie | 2a Hostel |
Recommended Berlin tours
Berlin Bike Tour:

Berlin Wall and Cold War

Sachsenhausen

Concentration Camp Tour

Berlin Street Art Tour

and Graffiti Workshop
Best cities for Lunar New Year celebrations
For those looking to celebrate Lunar New Year (aka Chinese New Year), there are plenty of options. Lunar New Year 2020 will be rung in on Saturday, January 25th, but the celebrations always run more than one night.
I went to Hong Kong for the celebrations in 2016 and was blown away by the parade, fireworks over the water, street food and overall revelry. It was great to see a contrast to traditional New Year celebrations, and gave me a second chance to ring in the new year!
Click here to check out tours celebrating Chinese New Year in Asia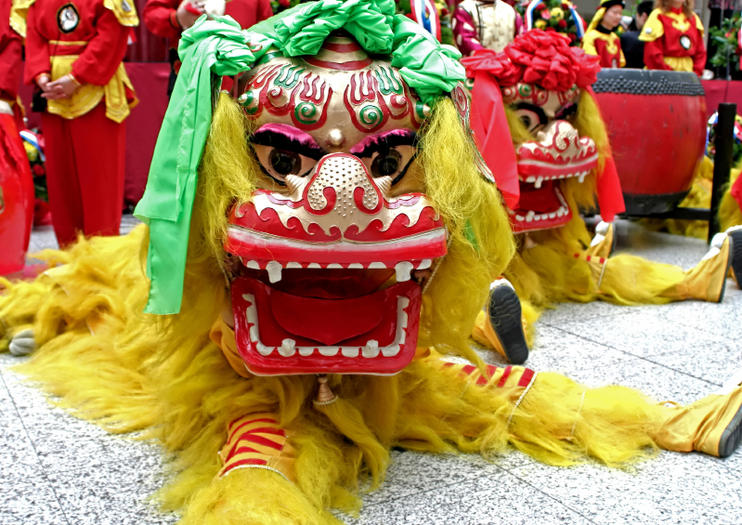 Share the best cities to celebrate New Year's Eve!
Where are you heading for the new year? Share your celebrations with How Dare She and pin this to share with your friends!
Founder of How Dare She, Jessica is on a mission to visit every country in the world, and bring you along with through photos, video and stories. 6 continents and 104 countries in. She has a BA in journalism and Master's in innovation and change, but her real skill is plugging in a USB in 2 or less tries (most of the time). She believes daring isn't about being fearless, but choosing to opt in, in spite of fear. She dares to see, taste, experience and meet the world as she goes.